Dominican Republic
多明尼加 Dominican Republic

The second largest nation in the Caribbean region is famous for the hospitality of its people, breathtaking natural scenery, fascinating history, and rich culture. There are 1609 kilometers of coastline, 402 kilometers of world-class beaches, many resorts and hotels, and many varying types of sports and entertainment in the Dominican Republic. With lush green fairways, surrounded by mountains, it is also the number-one golf destination in the Caribbean and Latin American regions. Such a diversified travel environment will certainly stimulate imaginations, and purify minds! You are most welcome to explore this beautiful sacred island that is filled with surprises, and to create unforgettable, wonderful memories!
Santo Domingo
Santo Domingo, the capital city of the Dominican Republic, is also the largest, most vibrant, and friendly metropolis in the Caribbean and Central America regions. It is recommended that tourists who come here for the first time should take at least a day visiting UNESCO World Heritage Site, Colonial City. Sixteen intersecting streets in the Colonial City where precious buildings, dating from the 16th century to the early 20th century, stand on both sides of the streets, are ideal for enjoying with casual roaming and strolling. Narrow streets, paved with cobbled stones and lit with classic street lights , are lined with museums, shops and bars. Of course, you can also choose to journey on the Chu Chu Colonial, a 45-minute ride that allows you to view all the historical sites and cathedrals. In addition, several lush green botanical gardens in Santo Domingo are worthy of a visit; or, head over to the seaside boulevard, Malecón, for a beautiful view of the ocean. You can also enjoy shopping in the large shopping malls in Santo Domingo for items such as linen guayabera shirts, which are only available in the local markets, leather bags, or multinational creative clothing. If you feel like relaxing in the evening, then go to Plaza de España, or Ave Gustavo Mejia Ricart, find a restaurant with a balcony, indulge yourself with the very best cigar, and let the evening hours slide by. Las Americas International Airport is the major transport hub for entering Santo Domingo. It is only 30 minutes away from the eastern part of the city. By sea, it only takes 10 minutes by ferry from any of the main attractions in Colonial City to Santo Domingo.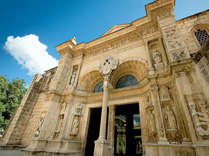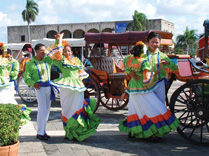 Punta Cana
Punta Cana is one the main attractions in the Dominican Republic that is most suitable for relaxation, where a long stretch of beautiful beach is located near where the Atlantic Ocean converges with the Caribbean Ocean, and a whole row of large scale ocean-front resorts offer tourists comfortable and upscale accommodations. Punta Cana is also a golf enthusiast's paradise: with 11 beautiful golf courses, visitors can indulge in the fun of hitting the little white ball! The majority of local resorts have a small scale amusement park facility for children, and offer a variety of holiday activities and food services that meet the requirements of families. In addition, this location is also perfect for dream weddings. With a soft delicate white-sand beach, and coconut trees as the background, you will be able to create the most beautiful memories in your lifetime. Punta Cana International Airport (PUJ), which offers flights from 26 different countries for tourists' convenience, is an important hub linking countries in the Caribbean region and the Central American region. While the recently constructed airport highway allows tourists to reach La Romana in less than one hour, the capital city, Santo Domingo, can be reached in just two and a half hours.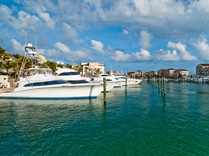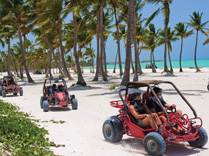 Samaná
Samaná has the most precious nature reserve in the Dominican Republic that includes spectacular scenery such as phytoncide-filled virgin forests, small ravines, ocean bays, waterfalls, and mountains. Here, you can enjoy river boating in the forests, surfing, hiking, or whale-watching! Samaná is still a paradise for independent travelers. Many European travelers are reluctant to leave after their visit and decide to stay in Samaná to start a new career and a new life, and that injects new energy into the region. Samaná City is the capital of the province; the famous Playa Rincón beach is located in Las Galeras; Las Terrenas is a major tourist center. Although it is filled with large-scale shopping malls, restaurants and bars, it still retains the relaxing atmosphere of a seaside city. You can access Samaná by way of El Catey International Airport (AZS), or by cruise ships that most often sail in winter, and dock near Cayo Levantado.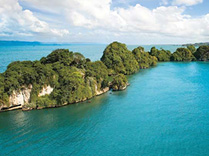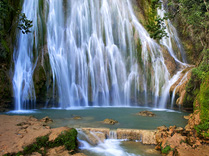 Puerto Plata
Mt. Isabel de Torres, with floating white clouds on top of its peaks, is the mountain that towers over and behind Puerto Plata. Now, visitors can take a cable car to the peak of the mountain, visit the botanical garden on the mountain top and enjoy the panoramic view of the harbor city. There are many 19 century Victorian style houses still standing in this city, the number of which is the largest in the Caribbean region. San Felipe Fort is one of the oldest military fortresses of the colonial period in the region, and its history can be traced back to 1577. Today, Puerto Plata is best known for its beautiful Atlantic coast line with over 100 kilometers of beaches, coastal towns and hotels. The seaside towns, Sosua and Cabarete are known world-wide for their windsurfing and kite surfing. You can access Puerto Plata by way of the Gregorio Luperón International Airport (POP), or contact the Ocean World Marina for various yacht services.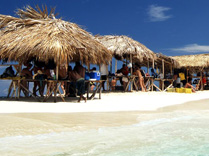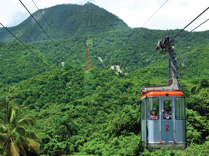 La Romana
La Romana is one of the most popular tourist destinations in the Dominican Republic, featuring sugar cane, golf, beaches and diving! Driving to this town, tourists can see fields of sugarcane everywhere. In the 70s, America's largest sugar plant diversified its business operation, and built the Casa de Campo resort. The resort is famous for its world-class golf courses, and Altos de Chavón, a village built in 16th century Spanish style, as well as its various art exhibits and activities that attract numerous visitors. Nowadays, in addition to its first class golf courses, many tourists come to La Romana for its beautiful beaches and resorts. Bayahibe is the gateway to Saona Island from the National Park of the East, and is one of the most visited natural attractions in the Dominican Republic. The Bayahibe Rose produced here is a rare cactus bush, and was named as the national flower of the Dominican Republic in 2011. Casa de Campo International Airport and Casa de Campo Tourist Port are the two major ports of entry to this area.